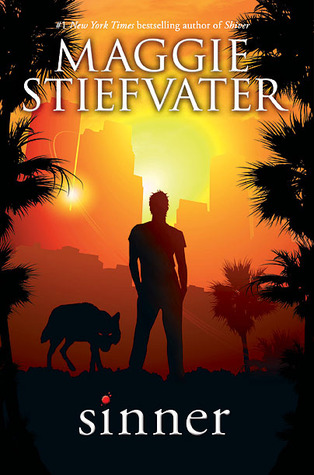 Book Synopsis:
A standalone companion book to the internationally bestselling Shiver Trilogy.
Sinner follows Cole St. Clair, a pivotal character from the #1 New York Times bestselling Shiver Trilogy. Everybody thinks they know Cole's story. Stardom. Addiction. Downfall. Disappearance. But only a few people know Cole's darkest secret — his ability to shift into a wolf. One of these people is Isabel. At one point, they may have even loved each other. But that feels like a lifetime ago. Now Cole is back. Back in the spotlight. Back in the danger zone. Back in Isabel's life. Can this sinner be saved?
My Review:
I loved the Shiver Trilogy and this book is a good addition to that series.  The story is focused on the characters of Cole St. Clair and Isabel Culpeper.  This book is basically a love story with very little paranormal activity.  Cole and Isabel are both complicated people and so, it is only natural that their love story would be very complicated.  Their relationship was a roller coaster ride and I wasn't sure how it was going to turn out.
I really liked this book, even without a lot of werewolf time.  I have always wondered how things would have turned out between Cole and Isabel, and now I know.  I also liked the evolution of the characters throughout the book and that they both went on their own journey of self discovery.  The book was written from the point of view of both Cole and Isabel.  I enjoyed seeing the story through both of their eyes.
I would give this book 4.5 stars.