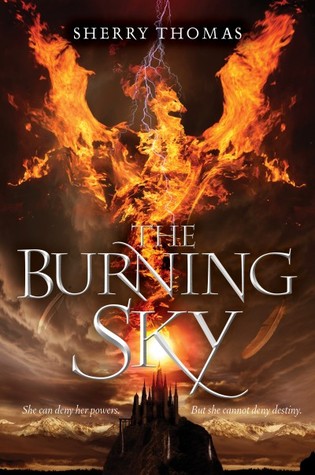 "You can live forever for me." 
"I live for you, and you alone."

  ― Sherry Thomas, The Burning Sky
Excerpt:
Did this mean he was about to tell her something he wouldn't normally? Her ears perked—figuratively, since her ears were now feather-covered holes in the sides of her head.
He laughed softly. "You know, you are almost enjoyable to talk to, when you do not say anything back."
She willed the water in the tub to strike him in the face.
There was a loud splash. "Hey!" He sounded surprised, but not unpleasantly so. "Interesting. You are still capable of elemental powers. But stop—or I will feed you to the castle cats."
She struck him again. 
I am so excited to read this book! I purchased it from the Spark a Reaction YA Panel! Sherry Thomas seems like such a talent and awesome author! The sequel to The Burning Sky is called The Perilous Sea and will be released September 16th! So definitely read The Burning Sky before then! Check out the book synopsis below!
Book Synopsis (Goodreads):
Iolanthe Seabourne is the greatest elemental mage of her generation—or so she's being told. The one prophesied for years to be the savior of The Realm. It is her duty and destiny to face and defeat the Bane, the greatest mage tyrant the world has ever known. A suicide task for anyone let alone a sixteen-year-old girl with no training, facing a prophecy that foretells a fiery clash to the death.

Prince Titus of Elberon has sworn to protect Iolanthe at all costs but he's also a powerful mage committed to obliterating the Bane to avenge the death of his family—even if he must sacrifice both Iolanthe and himself to achieve his goal.

But Titus makes the terrifying mistake of falling in love with the girl who should have been only a means to an end. Now, with the servants of the Bane closing in, he must choose between his mission and her life.
Doesn't this book just sound AMAZING?!?! As Sherry Thomas said "it's like Harry Potter but with cross dressing!" (Spark a Reaction YA Panel, July 10th 2011)
Add The Burning Sky to your goodreads!!!