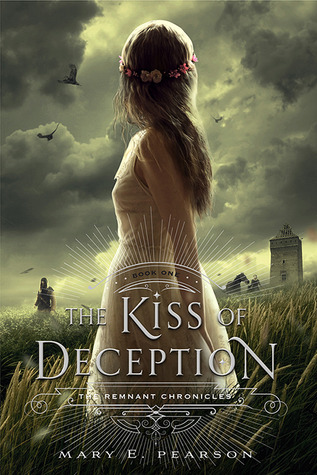 Book Synopsis(Goodreads):
A princess must find her place in a reborn world.She flees on her wedding day.She steals ancient documents from the Chancellor's secret collection.She is pursued by bounty hunters sent by her own father.She is Princess Lia, seventeen, First Daughter of the House of Morrighan.The Kingdom of Morrighan is steeped in tradition and the stories of a bygone world, but some traditions Lia can't abide. Like having to marry someone she's never met to secure a political alliance.Fed up and ready for a new life, Lia flees to a distant village on the morning of her wedding. She settles in among the common folk, intrigued when two mysterious and handsome strangers arrive—and unaware that one is the jilted prince and the other an assassin sent to kill her. Deceptions swirl and Lia finds herself on the brink of unlocking perilous secrets—secrets that may unravel her world—even as she feels herself falling in love.
Review:
I really liked this book and I can't wait to read the sequel.  Lia is the princes of Morrighan.  She flees with her maid on the morning of her wedding to the prince of Dalbreck.  They head for a small village to the south called Terravin.  They settle into their new surroundings and become barmaids.  Two young men arrive in the village and unbeknownst to Lia, one is the spurned prince and one is an assassin sent to kill her.
Lia is strong. smart, loyal, confident,compassionate, courageous, and very capable of taking care of herself.  She has three older brothers who taught her how to hide her tracks when she is traveling, and how to use a knife for defense.  She is comfortable as a royal, but also as a commoner.  She doesn't think she is better than others just because of the accident of her birth.   She is not afraid to work hard.  I really liked Lia.  She is a great character.
Rafe, the prince of Dalbreck, is strong, smart, capable, loyal, and trained to be a soldier, but not allowed to actually fight due to his value to his father's kingdom.  This fact really bothers him.  He was also trained to be a tracker and although not easy, he was able to track the princess to Terravin.  His intentions are not to take the princess back, but to just see the young woman who was strong enough to thumb her nose at both the kingdoms of  Morrighan and Dalbreck.  He had wanted to do the same, but hadn't found the courage.
Kaden is the assassin.  He is from a country called Venda.  Their leader is called the Komizar.  The Komizar has decided that Morrighan and Dalbreck should not become allies.  Therefore, the princes must die and he sent one of his most trusted assassins to take care of it.  The Komizar took Kaden under his wing several years earlier and kept him from starving.  Kaden feels that he owes him his life and is continually trying to pay him back.  He will do anything for Venda and his Komizar.  He is loyal only to them.  Each time he has had to kill for them, he has lost a part of his soul.  The question is ,  how much of it is left?
Things that I liked:
I don't usually like love triangles, but I liked this one.  Maybe it was all the deception going on.  Almost every character was more than they seemed.  I liked Lia's relationship with her maid/best friend, Pauline.  They were very devoted to each other.  I also liked Lia's relationship with her brother Walther.   He took the time to find her after she ran way, to make sure that she was okay.  I liked the rivalry between Rafe and Kaden.  They were always trying to one up each other.  I really liked Lia.  She is a great character.
Things that I didn't like:
I didn't think there was enough Rafe.  I would have liked to see more of him in this book, but I understand why that wasn't possible.  Hopefully, he will be more present in the next book.  I would have liked to know more about the world that they were living in and more about the relationship between Lia and her parents.
My Rating;
This book was very well written, but I will warn you that it does end on a cliff hanger.  If you like fantasy, apocalyptic literature, dystopian societies, adventures, or love stories, than this book is for you.  I give it a four star rating and I will definitely read the sequel.