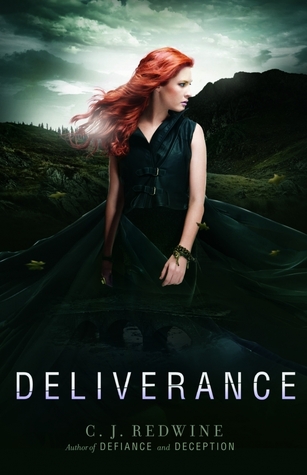 by C.J. Redwine (Goodreads Author)
Book Synopsis(Goodreads):
Everything hangs in the balance, and nothing is certain: Rachel has been kidnapped by enemy forces and is being taken to Rowansmark while Logan, imprisoned and awaiting trial, is unable to leave Lankenshire. Separated from each other and their Baalboden comrades, each must find a way to achieve what they desperately want: to rid their world once and for all of the Commander and the tech that controls the deadly Cursed One.
Fighting through her pain and embracing the warrior she's become, Rachel will do whatever it takes to escape her enemies' clutches and join Logan in his fight. But when she learns a secret that changes everything, she realizes that escaping Ian and his tracker friends is no longer an option if she wants to save the people she loves. Instead, she'll have to destroy Rowansmark from the inside out—if she can survive the journey through the Wasteland.
 Logan needs allies if he wants to thwart Rowansmark's power grab and rescue Rachel. But securing allies will mean betraying his beliefs and enlisting the help of the man he hates more than anyone: Commander Jason Chase. Driven by his fierce love for Rachel and his determination to make their world safe, Logan may be just the weapon the city-states need to defeat the Cursed One.
But as Rowansmark bears down and uneasy alliances are tested, will Rachel and Logan's love for each other be enough to surmount the unbelievable odds against them?
My Review:
I loved this book!  It was a great end to a wonderful series.  The story is well developed and beautifully written.  I was on the edge of my seat through most of the book.  I love the characters, especially Rachel and Logan.  They had to endure many hardships in this book and at times, I was very worried, but that is what makes great storytelling. Rachel and Logan have a wonderful love story.
Rachel lives in a society where woman have very few rights.  They must have a male protector and they are not allowed to go out in society by themselves.  Rachel was raised by her father to be self reliant and to think for herself.  She is smart, confident,  cares deeply for her family and friends. and is a natural leader.   She is also very much in love with Logan.  She would do anything to keep him save, including sacrificing herself.
Logan was trained to be a courier by Rachel's father.  When Jared  goes missing, Logan becomes her new protector.  Logan is an orphan, an outcast, and an inventor.  He will do anything to protect Rachel and soon realizes the true depth of his feelings for her.  He becomes a great leader through the series and many people rely on his ability to make plans.
At the beginning of this book, Rachel and Logan are separated.  Rachel  has been kidnapped by Ian, while Logan is surrounded by Rowansmark trackers and the Commander and his army.  Will Logan be able to come up with a plan to escape and rescue Rachel in time?  You will have to read the book to find out.
If you haven't read this series, you definitely should.  The series contains the books Defiance, Deception, and Deliverance.  I would recommend them to anyone who likes books about dystopian societies or post apocalyptic literature.  I give this book 5 stars.