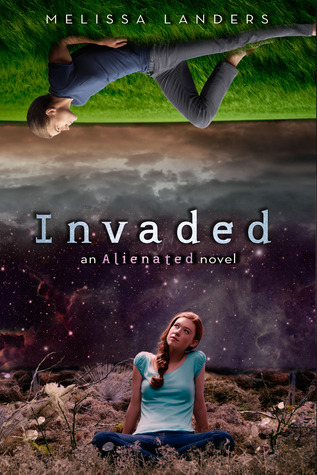 Invaded (Alienated Book 2) by Melissa Landers
Publication Date: February 3, 2015
Publisher: Disney Hyperion
Genre: Young Adult, Science Fiction
Status: Second Installment
Rating:  4.5 Stars
Book Synopsis (Goodreads):
The romantic sequel to Alienated takes long-distance relationships to a new level as Cara and Aelyx long for each other from opposite ends of the universe…until a threat to both their worlds reunites them.
Cara always knew life on planet L'eihr would be an adjustment. With Aelyx, her L'eihr boyfriend, back on Earth, working to mend the broken alliance between their two planets, Cara is left to fend for herself at a new school, surrounded by hostile alien clones. Even the weird dorm pet hates her.
Things look up when Cara is appointed as human representative to a panel preparing for a human colony on L'eihr. A society melding their two cultures is a place where Cara and Aelyx could one day make a life together. But with L'eihr leaders balking at granting even the most basic freedoms, Cara begins to wonder if she could ever be happy on this planet, even with Aelyx by her side.
Meanwhile, on Earth, Aelyx, finds himself thrown into a full-scale PR campaign to improve human-L'eihr relations. Humans don't know that their very survival depends on this alliance: only Aelyx's people have the technology to fix the deadly contamination in the global water supply that human governments are hiding. Yet despite their upper hand, the leaders of his world suddenly seem desperate to get humans on their side, and hardly bat an eye at extremists' multiple attempts on Aelyx's life.
The Way clearly needs humans' help . . . but with what? And what will they ask for in return?
My Review:
I really liked Invaded by Melissa Landers.  The book is told from both Cara and Aelyx's points of view. Aelyx is on Earth and Cara has arrived on L'eihr, Aelyx's home planet.   I was really looking forward to this book, but I was also a little worried about the direction this second book would take.  I can honestly say that Invaded surpassed my expectations.  When a new character was introduced at the end of Alienated, I was worried about a love triangle.  I think that love triangles have been way over done in the past couple of years.  To me, they have become a big turn off, unless they are very well done.  I was very glad that the author went in another direction.  I also wondered how the author was going to keep our interest with the main characters being on separate planets.  Needless to say, I had nothing to worry about.  There were plenty of exciting things going on.
Cara is on L'eihr without Aelyx.  She has no friends except for her brother, Troy and Aelyx's sister, Elle.  She learns very quickly that teenagers on Earth and L'eihr are not so different.  They have a hard time accepting "the new kid" and now she is "the new kid".  L'eihr is beautiful, but very different from Earth.  She misses her home, family, and Aelyx.  They talk via their comm links everyday, but it just isn't the same.  School is another adjustment.  She was valedictorian of her graduating class on Earth and on L'eihr, she is behind everyone else.  The L'eihr's expect excellence from their young people and not just in education.  They have their form of PE class and it makes PE classes on Earth look like a joke.  She has a lot of hard work ahead of her, but someone is trying to sabotage her position on L'eihr.  She discovers that not everything is as it seems on this planet that will be her new home.
Aelyx is on Earth trying to undo the damage that he did in book one.  Syrine is with him, but they are still not on speaking terms after she slapped Cara on the space ship, but that is the least of his problems.  Someone doesn't want him on Earth and would like to see the end of his existence.  There have been some attempts on his life, but he is keeping this from Cara, because he doesn't want her to worry.  Aelyx and Syrine are traveling around meeting with humans and trying to drum up support for the alliance.  Aelyx misses home and Cara very much.  When he finds out the things that are happening to Cara, he gets frustrated, because he isn't there to help her.  Aelyx and Syrine have a group of soldiers protecting them, but will that be enough?  Will Aelyx find out who is trying to kill him?
I just love Aelyx and Cara.  They are such wonderful characters and their love story is very sweet.  I hope there will be another book in the series.  I definitely want more Aelyx and Cara.
Things I didn't like about the book:
Honestly, the only thing I have to complain about is not enough of Aelyx and Cara being together on the same planet.  But I'm not sure that was really a bad thing, because it made the time they were together even more special.
Things I liked about the book:
I like the way the author dealt with the long distance relationship between Cara and Aelyx.  We got to see just how strongly they care about each other, but we also got to see their doubts and worries.  I liked seeing things from both of their perspectives and knowing how each one felt about the things that were happening to them.  In any good story you have to have an antagonist or two.  We get to meet some in this book and one of them stands out in my mind.  He has great potential as a villain and I do love a good villain.  I liked the relationship between Cara and Aelyx.  It was very believable and realistic.  Having a relationship with someone from a different planet has inherent problems, which were addressed in this book.  I liked that the author didn't gloss over the problems.  Aelyx and Cara had to face the problems and work through them.  I liked Cara's time on L'eihr and the new things that she saw and experienced.  She was put threw the ringer, but came out better for the experience.  I loved many of the side characters as well, Elle, Troy, David, Alona, and her fitness instructor that she prefers to think of as Satan.
Invaded is a great book and I highly recommend it.  If you haven't read the first book, Alienated, then you should do that first.  You won't be disappointed.
About the Author:
Melissa Landers is a former teacher who left the classroom to pursue other worlds. A proud sci-fi geek, she isn't afraid to wear her Princess Leia costume in public—just ask her husband and three kids. She lives just outside Cincinnati and writes adult contemporary romance as Macy Beckett.