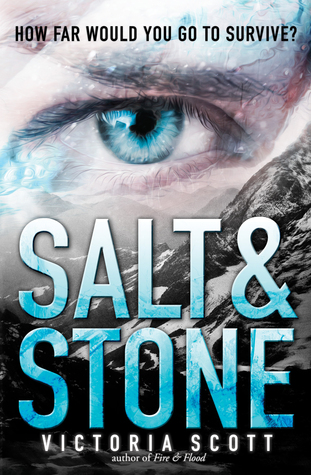 by Victoria Scott (Goodreads Author)
Book Synopsis(Goodreads):
What would you do to save someone you love?
In Fire & Flood, Tella Holloway faced a dangerous trek through the jungle and across the desert, all to remain a Contender in the Brimstone Bleed for a chance at obtaining the Cure for her brother. She can't quit–she has to win the race, save Cody, and then fight to make sure the race stops before it can claim any more lives. In the next legs of the race, across the ocean and over mountains, Tella will face frostbite, sharks, avalanche, and twisted new rules in the race.
But what if the danger is deeper than that? How do you know who to trust when everyone's keeping secrets? What do you do when the person you'd relied on most suddenly isn't there for support? How do you weigh one life against another?
The race is coming to an end, and Tella is running out of time, resources, and strength. At the start of the race there were one hundred twenty-two Contenders. As Tella and her remaining friends start the final part of the race, just forty-one are left–and only one can win.
Quote 1:
"Before, I figured that when my family was struck with illness, when my brother, Cody,  first passed on a second helping of meat loaf with red gravy and started losing weight, that this was the thing.  This was the tragedy I'd have to deal with in my life — watching my big brother crumble and my family with him.
I tried to be brave, to smile when there was nothing to smile about.  To offer a polished joke in the doctor's office so that Cody could cast off the fear in his belly and laugh instead.
Good-bye, fear.  Nice knowing you!  I won't be needing you since my sister's here.
Now I'm competing in the Brimstone Bleed to try and save his life.  I thought the bad hand we were dealt was Cody's being sick.  But sometimes a hand worse than illness is the one offering a slippery morsel of hope.  That's the thing about life: When you're dealt a crappy situation, you think to yourself, At least it can't get any worse than this.
And then life slaps you upside the head for being naive."
—-Salt & Stone by Victoria Scott
Quote 2:
"Guy moves in closer and guides my face up.  "I thought I lost you.  I thought … what you said about if I didn't say it, you'd never know."  He closes his eyes and opens his mouth as if he's going to say something profound.
"No, don't," I say.  "Not when I'm spitting up snow."  He laughs, and I tell him how terribly rude it is to laugh while I'm hypothermic.  He laughs Harder."
—-Salt & Stone by Victoria Scott