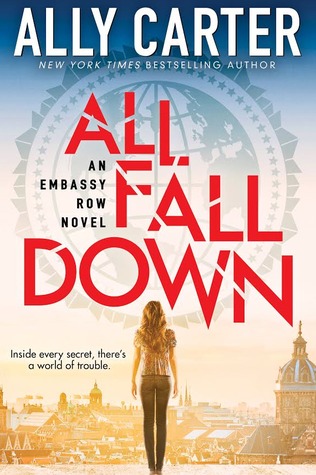 by Ally Carter (Goodreads Author)
Book Synopsis(Goodreads):
A new series of global proportions — from master of intrigue, NEW YORK TIMES bestselling author Ally Carter.
This exciting new series from NEW YORK TIMES bestselling author Ally Carter focuses on Grace, who can best be described as a daredevil, an Army brat, and a rebel. She is also the only granddaughter of perhaps the most powerful ambassador in the world, and Grace has spent every summer of her childhood running across the roofs of Embassy Row.
Now, at age sixteen, she's come back to stay–in order to solve the mystery of her mother's death. In the process, she uncovers an international conspiracy of unsettling proportions, and must choose her friends and watch her foes carefully if she and the world are to be saved.
Quote 1:
"Ok," he says. "First lesson."
Noah broadens his stance, taking his place firmly on the embassy side of the threshold. "in the United States," he says. Then, with both feet, he leaps on to the sidewalk. "Out of the United States." Quickly, he jumps back toward me. "In the United States." Another jump across the threshold. "Out of the United States. In. Out. In –"
"Is this the part where I hit you?"
― Ally Carter, All Fall Down
Quote 2:
"You're following me," I say.
"Yes, I am."
"That's really annoying."
"I'm sure it probably feels that way, yes."
I stop. "I can take care of myself." Overhead, the gas in the streetlamp surges. It grows brighter, harsher. There are no shadows anywhere as he looks at me.
"That's exactly what worries me."
― Ally Carter, All Fall Down
Quote 3:
"I've attended seven schools in ten years," I explain. "So you can rest assured I know you. You're the girl who thinks being cruel is the same thing as being witty. You think being loud is the same thing as being right. And, most of all, you're the girl who is very, very pretty. And also very, very…common. trust me. There's at least one of you in every school." I watch her features shift. "Oh. Wait. Did you think you were unique?"
― Ally Carter, All Fall Down