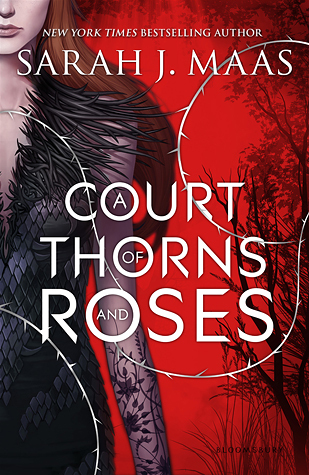 by Sarah J. Maas (Goodreads Author)
Book Synopsis(Goodreads):
A thrilling, seductive new series from New York Times bestselling author Sarah J. Maas, blending Beauty and the Beast with faerie lore.When nineteen-year-old huntress Feyre kills a wolf in the woods, a beast-like creature arrives to demand retribution for it. Dragged to a treacherous magical land she only knows about from legends, Feyre discovers that her captor is not an animal, but Tamlin—one of the lethal, immortal faeries who once ruled their world.
As she dwells on his estate, her feelings for Tamlin transform from icy hostility into a fiery passion that burns through every lie and warning she's been told about the beautiful, dangerous world of the Fae. But an ancient, wicked shadow grows over the faerie lands, and Feyre must find a way to stop it . . . or doom Tamlin—and his world—forever.
Perfect for fans of Kristin Cashore and George R. R. Martin, this first book in a sexy and action-packed new series is impossible to put down!
Quote 1:
"Do you ever stop being so serious and dull?"
"Do you ever stop being such a prick?" I snapped back.
Dead–really, truly, I should have been dead for that.
But Lucien grinned at me. "Much better."
― Sarah J. Maas, A Court of Thorns and Roses
Quote 2:
"Would you like me to grovel with gratitude for bringing me here, High Lord?"
"Ah. The Suriel told you nothing important, did it?"
That smile of his sparked something bold in my chest. "He also said that you liked being brushed, and if I'm a clever girl, I might train you with treats."
Tamlin tipped his head to the sky and roared with laughter. Despite myself, I let out a quiet laugh.
"I might die of surprise," Lucien said behind me. "You made a joke, Feyre."
I turned to look at him with a cool smile. "You don't want to know what the Suriel said about you." I flicked my brows up, and Lucien lifted his hands in defeat.
"I'd pay good money to hear what the Suriel thinks of Lucien," Tamlin said.
A cork popped, followed by the sounds of Lucien chugging the bottle's contents and chuckling with a muttered, "Brushed."
― Sarah J. Maas, A Court of Thorns and Roses
Quote 3:
"I was loosened, a top whirling around and around, and I didn't know who I danced with or what they looked like, only that I had become the music and the fire and the night, and there was nothing that could slow me down."
― Sarah J. Maas, A Court of Thorns and Roses