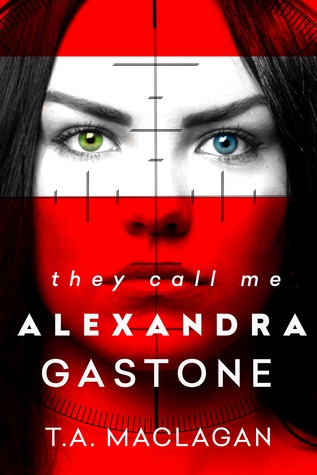 They Call Me Alexandra Gastone
by T.A. Maclagan (Goodreads Author)
Book Synopsis(Goodreads):
When your life is a lie, how do you know what's real?
Alexandra Gastone has a simple plan: graduate high school, get into Princeton, work for the CIA, and serve her great nation.
She was told the plan back when her name was Milena Rokva, back before the real Alexandra and her family were killed in a car crash.
Milena was trained to be a sleeper agent by Perun, a clandestine organization from her true homeland of Olissa. There, Milena learned everything she needed to infiltrate the life of CIA analyst Albert Gastone, Alexandra's grandfather, and the ranks of America's top intelligence agency.
For seven years, "Alexandra" has been on standby and life's been good. Grandpa Albert loves her, and her strategically chosen boyfriend, Grant, is amazing.
But things are about to change. Perun no longer needs her at the CIA in five years' time. They need her active now.
Between her cover as a high school girl—juggling a homecoming dance, history reports, and an increasingly suspicious boyfriend—and her mission in this high-stakes spy game, the boundaries of her two lives are beginning to blur.
Will she stay true to the country she barely remembers, or has her loyalty shattered along with her identity?
My Review:
This book did a lot of things right.  The premise of the story was very interesting and it draws you in.  The writing was good and the characters were fairly well developed.  In fact, I loved the grandfather, Albert.  He was my favorite character in the whole book.  I take that back, not just in this book, but he is one of my favorite characters from all the books that I have read.  On the other hand, I wasn't even sure if I liked Alexandra(Milena) until about a third of the way through the book.   Even though the book is written from her point of view,  you only get little pieces of the real Milena at a time.  She spends most of the time hiding behind who she is supposed to be, Alexandra.
There is a small love story in the book, but it wasn't a main part of the book and to tell the truth, I was never very invested in it.  I never cared if she stayed with him or dumped him and it never mattered in the story line either.  The relationship was pretty much just a cover for Milena.  Every high school girl needs a boyfriend, especially if he is the quarterback of the football team.  Although I do believe she had feelings for him, but had a hard time admitting that to herself.
My real problem with this book was the pacing.  The first half of the book was very slow.  I think that more needed to be happening and sometimes the author was a little too descriptive of unnecessary things.  Also I realize that Milena was brainwashed, but I found it hard to believe that she lived with Albert for six years and never once questioned the organization that she worked for.  She was a teenager and teenagers question everything.
If you are tired of the YA fantasy genre and like spy thrillers, you might want to check this book out.  I would love to hear what you think about the book.
About the author:
T.A. Maclagan is a Kansas girl by birth but now lives in the bush-clad hills of Wellington, New Zealand with her Kiwi husband, son and four pampered cats. With a bachelor's degree in biology and a Ph.D. in anthropology, she's studied poison dart frogs in the rainforests of Costa Rica, howler monkeys in Panama and the very exotic and always elusive American farmer. It was as she was writing her 'just the facts' dissertation that T.A. felt the call to pursue something more imaginative and discovered a passion for creative writing. They Call Me Alexandra Gastone is her first novel.