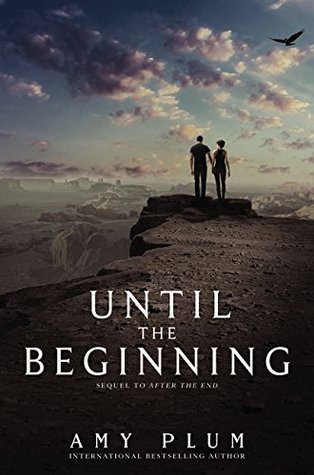 by Amy Plum (Goodreads Author)
Book Synopsis(Goodreads):
"With the thrilling cliffhanger ending to the prequel, After the End, this book is sure to have readers screaming for joy as it starts off where they last left the characters, then expands into an even more magical journey. There is not a dull page to be found, as action, adventure and romance abound. You'll feel as if you are right with the characters. This heart-pounding book will take you on a journey that you will never want to end." RT Book Reviews, 4 1/2 stars.
When Juneau's clan disappeared, she lost so much more than her friends and family. She soon discovered everything she thought she knew about her life was a lie. Her people's gifts were actually secret abilities that others wanted, desperately enough to kidnap an entire village.
Juneau and her new companion Miles's cross-country journey to find her clan has led them to a game preserve in New Mexico. Now Juneau's people are finally within reach, and she will stop at nothing to save them. But she has a target on her back too, because unbeknownst to her she is the key to unlocking everything. To rescue her people – and herself – Juneau must discover what she, and her abilities, are truly capable of.
Quote 1:
"I am being dragged along a current, floating in a wide river with tall trees on either side.  My body is pulled under and pops back up as if I were nothing but a twig floating on the surface of a stream.  I am unafraid, my senses bathed by the sound of the rushing water and the touch of the cool liquid.  Only the smell of the sparkling pure air in this dream world is missing–absent because I do not breathe."
—-Until the Beginning by Amy Plum
Quote 2:
"I smooth back his hair, feeling his cold forehead under my fingertips.  I brush his eyelids closed as I sing of what he will see on the Path, and touch his chin to shut his mouth.  And then I do something I never did to my other Rite-travelers.  I kiss him.  I touch my warm mouth to his cold one and, closing my eyes, wish that I could transfer my life to him.  That my spirit could slip out from between my lips and reignite his extinguished flame."
—-Until the Beginning by Amy Plum
Quote 3:
"Miles's eyes move left and right.  "Where am I lying?" he asks.
"In the back of a Chevrolet pickup truck."
"Which you got by. . . ," he prompts.
". . . trading it for your car."  A bemused smile forms on Miles's mouth.  "You traded my BMW for a Chevy pickup?"
"Is that a bad thing?"
"Let's just say that the other guy must be pretty damn happy.""
—-Until the Beginning by Amy Plum