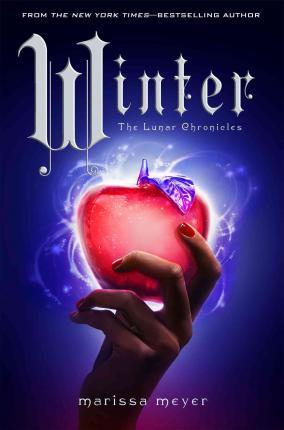 by Marissa Meyer (Goodreads Author)
Synopsis(Goodreads):
Princess Winter is admired by the Lunar people for her grace and kindness, and despite the scars that mar her face, her beauty is said to be even more breathtaking than that of her stepmother, Queen Levana.
Winter despises her stepmother, and knows Levana won't approve of her feelings for her childhood friend–the handsome palace guard, Jacin. But Winter isn't as weak as Levana believes her to be and she's been undermining her stepmother's wishes for years. Together with the cyborg mechanic, Cinder, and her allies, Winter might even have the power to launch a revolution and win a war that's been raging for far too long.
Can Cinder, Scarlet, Cress, and Winter defeat Levana and find their happily ever afters?
Quote 1:
"She hesitated before asking, "Do you ever think about the future?"
His expression turned wary. "Of course I do."
"And … does it include me?"
His gaze softened in a way that made her pulse skip. Releasing the overhead pipe, he tucked a strand of hair behind her ear. "That depends on whether I'm thinking about the good future or the bad one."
Cinder shut her eyes and tucked her head under his chin. "As long as one of them does."
― Marissa Meyer, Winter
Quote 2:
"It's not proper for seventeen-year-old princesses to be alone with young men who have questionable intentions."
She laughed. "And what about young men who she's been best friends with since she was barely old enough to walk?"
He shook his head. "Those are the worst."
― Marissa Meyer, Winter
Quote 3:
"Do you have any idea how worried I've been?" she said, crossing to him. "I didn't know if you were dead or being held hostage, or if you'd been eaten by one of the queen's soldiers. It's been driving me mad not knowing."
He quirked an eyebrow at her.
She scowled. "Don't comment on that."
"I wouldn't dare."
― Marissa Meyer, Winter
Quote 4:
"Emperor, right." she retacked the curtain "That's weird to say, after eighteen years of listening to celebrity gossip feeds go on and on about 'Earth's favorite prince'". She claimed one of the lumpy sofa cushions, curling her legs beneath her. "I had a picture of him taped to my wall when I was fifteen. Grand-mere cut it off a cereal box."
Wolf scowled.
"Of course, half the girls in the world probably had that same picture from that same cereal box."
Wolf scrunched his shoulders against his neck, and Scarlet grinned, teasing. "Oh, no. You're not going to have to fight him for pack dominance now are you? Come here."
She beckoned him with a wave of her hand and he was at her side in half a second, the glower softening as he pulled her against his chest."
― Marissa Meyer, Winter