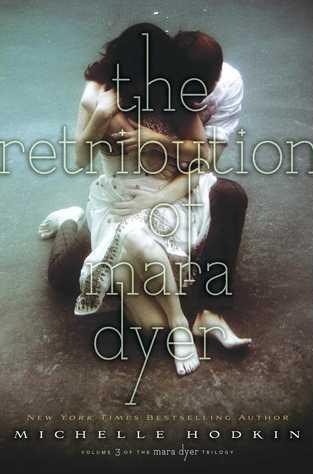 The Retribution of Mara Dyer (Mara Dyer #3)
by Michelle Hodkin (Goodreads Author)
Book Synopsis(Goodreads):
Mara Dyer wants to believe there's more to the lies she's been told.
There is.
She doesn't stop to think about where her quest for the truth might lead.
She should.
She never had to imagine how far she would go for vengeance.
She will now.
Loyalties are betrayed, guilt and innocence tangle, and fate and chance collide in this shocking conclusion to Mara Dyer's story.
Retribution has arrived.
Quote 1:
"The first thing I noticed when I woke up was that I was covered in blood.
The second thing I noticed was that this didn't bother me the way it should have.
I didn't feel the urge to scream or speak, to beg for help, or even to wonder where I was. Those instincts were dead, and I was calm as my wet fingers slid up the tiled wall, groping for a light switch. I found one without even having to stand. Four lights slammed on above me, one after the other, illuminating the dead body on the floor just a few feet away.
My mind processed the facts first. Male. Heavy. He was lying face down in a wide, red puddle that spread out from beneath him. The tips of his curly black hair were wet with it. There was something in his hand.
The fluorescent lights in the white room flickered and buzzed and hummed. I moved to get a better view of the body. His eyes were closed. He could have been asleep, really, if it weren't for the blood. There was so much of it. And by one of his hands it was smeared into a weird pattern.
No. Not a pattern. Words.
PLAY ME.
My gaze flicked to his hand. His fist was curled around a small tape recorder. I moved his fingers—still warm—and pressed play. A male voice started to speak.
"Do I have your attention?" the voice said.
I knew that voice. But I couldn't believe I was hearing it."
― Michelle Hodkin, The Retribution of Mara Dyer
Quote 2:
"You are what happiness means to me. And I would rather have today with you than forever with anyone else."
― Michelle Hodkin, The Retribution of Mara Dyer
Quote 3:
"As I was saying. He could never use you. You own him. You should've seen the way he was looking at you while you were out."
I smiled a little. "How?"
"Like you're the ocean and he's desperate to drown."
― Michelle Hodkin, The Retribution of Mara Dyer