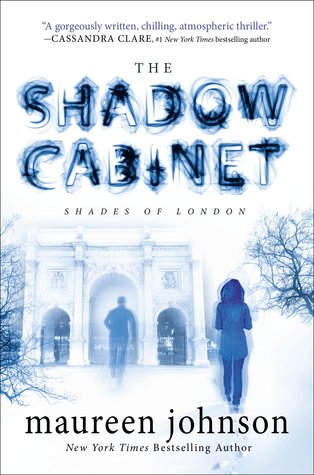 by Maureen Johnson (Goodreads Author)
Book Synopsis(Goodreads):
The thrilling third installment to the Edgar-nominated, bestselling series.
Rory and her friends are reeling from a series of sudden and tragic events. While racked with grief, Rory tries to determine if she acted in time to save a member of the squad. If she did, how do you find a ghost? Also, Rory's classmate Charlotte has been kidnapped by Jane and her nefarious organization. Evidence is uncovered of a forty-year-old cult, ten missing teenagers, and a likely mass murder. Everything indicates that Charlotte's in danger, and it seems that something much bigger and much more terrible is coming.
Time is running out as Rory fights to find her friends and the ghost squad struggles to stop Jane from unleashing her spectral nightmare on the entire city. In the process, they'll discover the existence of an organization that underpins London itself—and Rory will learn that someone she trusts has been keeping a tremendous secret.
Quote 1:
"There are some people you meet whom you can't picture having a normal life.  In your mind, they don't have a house or a bed or eat food.  They don't watch television or use a pen to get a weird itch in the middle of their back.  They seem to exist in some permanent state of other.  Thorpe was one of these people.
I mean, first of all , he was called Thorpe.  That was his last name.  I didn't know his first name.  He worked for some secret service, probably MI5.  He was young but had white hair.  If he did shower or sleep, I could only assume he did so in a suit.  So the fact that I was going to where Thorpe lived was strange enough.  But then I turned to see that his eyes were red.
Thorpe had feelings.  Feelings about Stephen.  I think this alone was enough to keep me in my suspended state of nonreality.  Stephen couldn't be dead, because Thorpe didn't cry and he didn't live anywhere.  Wrong again."
—-The Shadow Cabinet by Maureen Johnson
Quote 2:
"The second photo was of Stephen.  There was a girl with him, her arm wrapped over his shoulders.  They were kneeling in the sand, and he was crouching a bit to be level with her.
His sister.  There was something about the eyes, and they had the same dark brown hair.  She was physically much smaller, her smile much wider, much bolder.  She wore a two-piece bathing suit, and there were bracelets down her arm.  She tipped her head against his.  He was clearly younger in this photo–his face smoother and thinner.  His eyes and brow still had that worried look, like something was coming in the immediate future.  But he was also smiling.  I'd very rarely seen him smile.
A photo of two dead people.
I don't know how long I sat there holding that picture, looking at it as if I could magic myself into its world, fall inside its boundaries and turn up on a beach in the past.  Feeling kept spilling over me, confusing waves–jealousy of his sister, for making him so happy.  Happiness that I'd found the photo, then giddiness, then a sharp hysteria, and the …
Just crying.  Heavy-duty, no air, no light, nothing but the sound of heaving crying.  Crying until my body was dry and there was nothing left and it heaved in vain."
—-The Shadow Cabinet by Maureen Johnson